Welcome to the first "What I'm Reading" post. In these posts, which I hope to do bi-weekly, I will give an update and brief review of books I have just finished reading. I will also post my "currently reading" lists, as well as any new purchases, so you will know what reviews are going to be posted soon. For your convenience , I will attach the Goodreads link to each review, so you can easily add books to your TBR list! Enjoy!
Just Finished:
Storm of Swords by George R. R. Martin
I absolutely loved the first two books in A Song of Ice and Fire series, but had some trouble getting into this one. The first third of the book seemed slower paced than the last two, not to mention there are so many different points of view! It has been about a year since I read the second one, so I had to brush up on who was who (thank you for the extensisve character lists in the back of the books, Mr. Martin) . Then, about a third of the way in, I was addicted.
Could. Not. Put. It. Down.  Once you get past the slow-paced beginning, this book is amazing. Not to mention, this is the book containing the infamous Red Wedding… I won't post spoilers, but wow. Wow.
Add it to your Goodreads list here: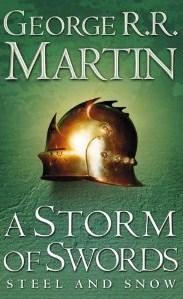 Storm of Swords Goodreads link
Nightmares Can Be Murder by Mary Kennedy
After reading the endless bloodbath that was Storm of Swords, I felt like breaking it up with something a bit calmer. So, I was browsing the "cozy mystery" section of my local bookstore and snagged this mystery. It is the first in the series "Dream Club Mysteries." Despite being about a murder, it was a light-hearted, easy read, which I sped through in two days. I've already purchased book two, which I intend to read next time I need a break from George R. R. Martin (or when I'm caught up and have to wait for Winds of Winter).
Nightmares Can Be Murder Goodreads link
Currently Reading:
Feast of Crows by George R. R. Martin
The Raven Boys by Maggie Stiefvater
Expect a review of these in the next edition of "What I'm Reading."
To Be Read:
Here are some new acquisitions that I picked up this week.
Water by Robin McKinley and Peter Dickinson.
I was super-excited to find this book by Robin McKinley (one of my top ten favorite authors) and her husband. Her book, Beauty, remains my all-time favorite retold fairy tale.
 Dream A Little Scream by Mary Kennedy
This the second book in the Dream Club Mystery series I mentioned above. After reading the first book, I went straight to Barnes and Noble and picked up the sequel!
Murder on the Half Shelf by Lorna Barrett
They say don't judge a book by its cover, but the cat on this cover was just too darn cute. Plus, it's a cozy mystery (my guilty pleasure reads) that was on the bargain table, so I just couldn't resist.
Hope that this post gave you a few additions to your TBR lists, and that you will stayed tuned for my next post! Happy Reading!